Small Extension: Big Impact!
|
With expert advice, you can make a serious impact with a stylish extension to your home and at the same time add value to what is likely to be your largest asset. Even a modest, yet high-quality addition, which is well designed can be extremely impressive.
Mr and Mrs H, asked Heritage Architecture to help them redesign their 1930's detached home on a popular road in Horsell, Woking to suit their growing family needs.
The original small kitchen featured a very prominent structural brick pillar stuck in the middle of the room from a previous poor quality extension attempt, and resulted in a very awkward space with little natural daylight and barely large enough for a busy family of five.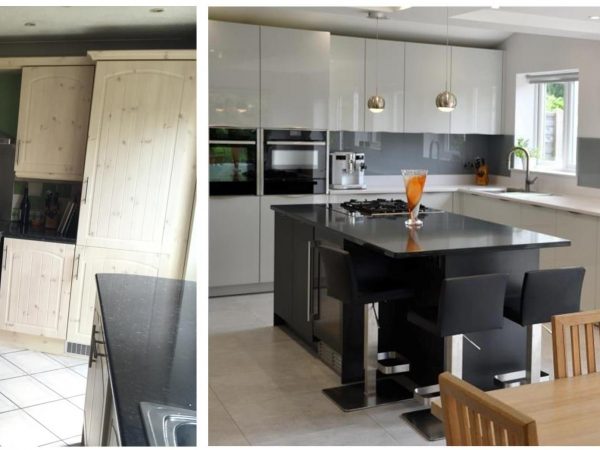 Heritage's design brief for the ground floor was to create a large kitchen/dining room with a more spacious feel.  This entailed removing the existing brick pillar and internal dividing wall between the kitchen and dining room and in doing so merging two rooms to create one large open-plan space.
Our team created a clever contemporary design, which delivered a bright, spacious open-plan kitchen dining space with bi-folding doors opening out onto the garden and patio. The layout has been reconfigured maximising the room with the emphasis on usable design, with everything efficiently ordered and within arm's reach.  Our client specifically wanted a kitchen island with inset hob and extensive worktop space to enable cooking to be a shared family experience.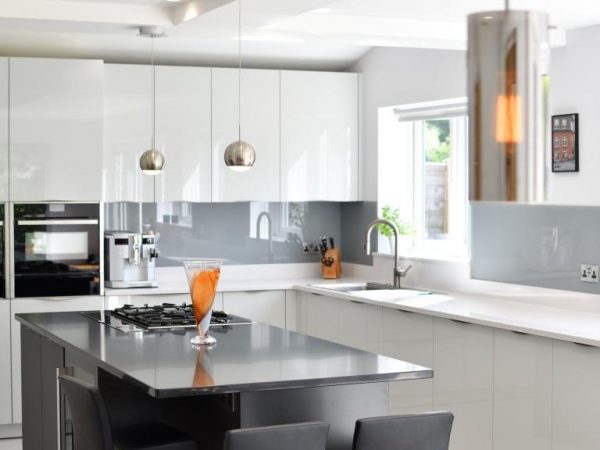 Our client has tastefully decorated this new space in cool, neutral grey and white tones which are complimented by chrome appliances, glossy kitchen units and glass splashbacks, giving an overall impression of space and style.  Natural light fills the new kitchen through the enlarged windows & doors and light bounces off the reflective surfaces.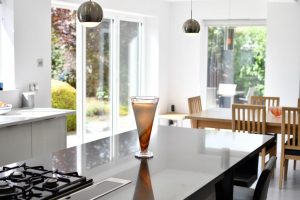 What the client said about the builder "… I had seen them working on other projects around the village and when chatting to a few friends realised that Godiva Developments had also done their extensions … We finished exactly on time and the budget only changed to allow extras that we asked for along the way…"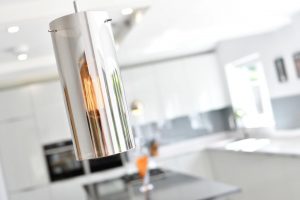 What the client said about Heritage "… Heritage talked things through with us and gave us a design plan that really made the most of the space.  We went through 2 or 3 design stages tweaking different elements to get what we wanted.  This was our first building project so we we really appreciated Heritage guiding us through the planning process and sorting out all that side of things for us.   The project ran really smoothly and we only had one query along the way which Heritage responded to really quickly, liaising with the builder and the structural engineer to agree the way forward…" 
View Project